Our Legacy
Mr. D. J. Harrison began breeding Quarter Horses in the 1930's on his ranch in Sonora, Texas, and began registering his Quarter Horses with the AQHA in 1941. The horses were raised primarily to work cattle. Mr. Dan J. Harrison, Jr. followed his father, raising Quarter Horses on his ranches in South Texas. His ranch outside Fulshear, Texas, served as the main breeding operation - as it still does today.

In 1997, the American Quarter Horse Association honored both men with the Legacy Award, a recognition for their 56 continuous years of registering Quarter Horses. Horses like King Moore by King, Old Sorrel grandson, Little Huero, Les Glo, Skipa Star and Colonel Freckles heavily influenced the Harrison breeding program.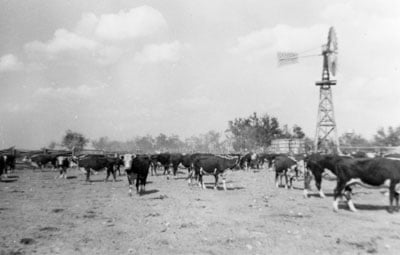 If you visit Memorial Hall at the Texas and Southwestern Cattle Raisers Museum in Fort Worth, Texas, you will see the niche which honors and perpetuates the memory of D. J. Harrison and Dan J. Harrison, Jr.
In Western Horseman's Legends, Volume 5, which features outstanding stallions and mares that have had a significant impact on the Quarter Horse breed, Skipa Star is featured. Our deceased stallion Skipastarsky, an own son of Skipa Star, was the 1983 AQHA High Point Jr Heeling Horse, among many other accomplishments and sired 151 foals.
Visit our photo galleries to view pictures of the Historical Harrison Ranch and Our Ranch Today. To view the performance record of horses we have produced over the years, click here.